The laptop I bought was a Lenovo Yoga Slim 7 Intel i7-1065G7 with 16GB RAM, 1T SSD, 14″ screen equipped with a sophisticated IR camera that amazed me.
Lenovo Yoga Slim 7 was released in Indonesia in mid-June after being introduced at CES 2020 Las Vegas early 2020.
After 10 years of using my brother's laptop, I finally got my own laptop with specifications that match my profile.
Since this is the first laptop, there will be an unboxing and review of the experience of using this laptop.
For the record, this laptop was introduced on June 15 2020 via the Lenovo Indonesia YouTube channel. But what was introduced at this event was only the Intel version, AMD doesn't exist yet!
In fact, in the comments on the launch event video, many asked about the AMD version. Understandably, in the Yoga Slim 7 the AMD processor embedded is Ryzen 4000, none other than the newest Ryzen that was introduced in early 2020.
Okay, go ahead!
In this article, I will discuss it from a personal point of view, starting from the experience of using it, the reasons why I bought this laptop and the price I paid for an Intel version of the Lenovo Yoga Slim 7 .
Complete specifications of the Lenovo Yoga Slim 7 that I bought
The Intel version of the Lenovo Yoga Slim 7 that I bought is the highest type of Yoga Slim 7, namely the Intel Core i7. Underneath there is still an Intel Core i5 version at a more affordable price.
Here are the full specifications:
Processor
10th Gen Intel® Core™ i7-1065G7 processor
Operating system
Windows 10 Home
Displays
14″ FHD (1920 x 1080) IPS, 300 nits, 100% sRGB, anti-glare
Memory
Up to 16GB LPDDR4X
Storage
1TB M.2 NVME SSD
Graphics Card
NVIDIA ® GeForce ® MX350 2GB
Battery
– Up to 14 hours (FHD)
– Rapid Charge Pro
Camera
IR camera
Connectivity
– WiFi 5 (802.11 ac 2×2)
– Optional: WiFi 6 (802.11 ax 2×2)
– Bluetooth ®
Security
– IR camera
audios
2 x 2W front-facing Dolby Atmos® Speaker Systems
Dimensions (W x W x D)
320.6mm x 208mm x 14.9mm / 12.62″ x 8.18″ x 0.58″
Weight
Starting from 1.4kg (glass-display models)
Ports / Slots
– 2 x USB 3.1 Gen 2
– USB-C (Thunderbolt + DP + Power Delivery)
– SD card reader
– HDMI
– Headphone / mic combo
Digital Assistant
– Cortana
– Alexa (available in select regions)
Color
– Slate Grey
Apart from the Intel i7 version, as I said earlier. If Lenovo introduced the Slim 7 with an AMD processor. For the AMD version, use Ryzen 7 and Ryzen 5 4000.
Apart from the Slate Gray color, there are other color choices such as Dark Moss and Orchid.
From the specifications above it is clear, this laptop is the device I have been looking for so far, it is the best in its class for now.
The reason why I chose Lenovo Yoga Slim 7
You need to know, I have many needs in using a laptop. Therefore, it was important to find the right laptop for me.
Here I want to tell you the reason why I chose the Lenovo Yoga Slim 7 Intel.
This is my profile in choosing a laptop:
I'm a person who likes thin laptops, because there are lots of outdoor activities too. So, you need a light, thin laptop so you can easily carry it anywhere.
I'm a person who likes to play thin games, at least my laptop can run the games FIFA 2020, GTV 5, Flight Simulator. 1080p resolution please!
I am also a person who likes to design. Software like CorelDRAW is mandatory.
I am also learning video editing, the software I want to use is Adobe Premiere Pro CC.
I am a person who likes high tech features on a device, so I also look for interesting things on a laptop.
So , from the description of my profile above, of course I'm a bit confused about choosing the laptop.
If you choose a thin laptop that is easy to carry around, the GPU is not okay. The problem is that for gaming and video editing you need a GPU.
If you choose a high performance laptop for gaming and video editing on par with Legion 5, that's fine, because there's a GTX 1650 Ti. But that one…. The Lagion laptop is heavy and not okay to carry around.
The initial plan to buy the Lenovo Yoga Slim 7 was the AMD Ryzen version. But after thinking many times and seeing lots of reviews, I finally just bought the Intel version.
Just so you know, the Ryzen 7 4800U CPU embedded in the Lenovo Yoga Slim 7 is faster than the Intel Core i7 Gen 10.
Just look at the comparison below.
From Ryzen's performance in the image above, it made me want to choose AMD's Yoga Slim 7 initially.
But, unfortunately AMD's Yoga Slim 7 still uses an integrated card, aka Redeon Vega which is not suitable for design and video editing software.
So, after watching some of the reviews, for content creators it's best to use a laptop with a dedicated card, like nVidia.
Well … on that basis I chose the Lenovo Yoga SLim 7 Intel laptop.
The problem is that on this Intel Yoga Slim 7 laptop, it has met all the criteria I'm looking for. Even though the CPU is inferior to AMD, the MX350 GPU is perfect for me.
The laptop is thin, fast and powerful gaming.
Testing by Jagat Review in the video below also encouraged me to buy this laptop.
The video above reviews the Yoga Slim 7 Intel i5, but it's really pretty. Especially the Intel i7, that 's for sure .
What makes it unique, this laptop has a really smart IR camera. I wrote a review in the experience section.
Hopefully my decision to buy Yoga Slim 7 Intel is not a wrong step. The thing is, it's already within the budget too. If you're chasing a thin laptop at 20 million, you still can't.
If you have recommendations for the latest laptop that are suitable for my profile as above, please leave a comment, OK? Who knows you can change it again wkwkwkwk …
Unboxing Lenovo Yoga Slim 7
Before we get to the review of the Lenovo Yoga Slim 7, I want to invite you first to see what Levono has presented in this newest laptop box.
In the Lenovo Yoga Slim 7 box, we will find:
1 unit Yoga Slim 7 Laptop
1 set of power supplies
Manual book and warranty card
Unfortunately, this laptop is not equipped with a VGA extension cable. Even though there is no VGA slot. Supposedly with the prices circulating in the market, a VGA cable can be provided by Lenovo.
The problem is that other vendors, such as HP, provide adapters for VGA connections.
Experience using Lenovo Yoga Slim 7 Intel i7 version
I started holding this Slim 7 laptop on September 19 2020 and today is November 7 2020, which means that I have been using this laptop for more than a month.
How does it feel?
There are pros and cons to using the Yoga Slim 7 i7.
I don't have much documentation, for photos and visuals of Yoga Slim 7, you can look on the internet and reviews from YouTubers.
Here I don't review in detail like expert Youtubers, but this is more about personal experience.
For using software and games, I install using all Adobe CC products and also some games that I normally play. You can see the image below for a screenshot of the Yoga Slim 7.
Apart from Adobe CC, I also use other design software and everything runs safely with Intel IRIS PLUS graphics.
But I'm sorry, I haven't tried rendering videos with Adobe Premiere Pro 2020. Later, if there is a project to make a video, I will update this article again.
As I said above, I also sometimes play games when I'm bored. The game that I installed on the Lenovo Yoga Slim 7 i7 is as shown below.
Even though this uses Nvidia MX350, you can't expect much if you want to play games all the time using this laptop, because it gets hot quickly.
I can't bear to play games for more than 1 hour. This laptop is not for gaming, but it can make gaming as long as it has tolerance.
So, I'm not really serious about playing the game.
However, if you just use it for typing and work lightly, this laptop stays cool and the fans don't need to spin (intelligent cooling mode).
The speed of the 1TB SSD can be seen in the image below.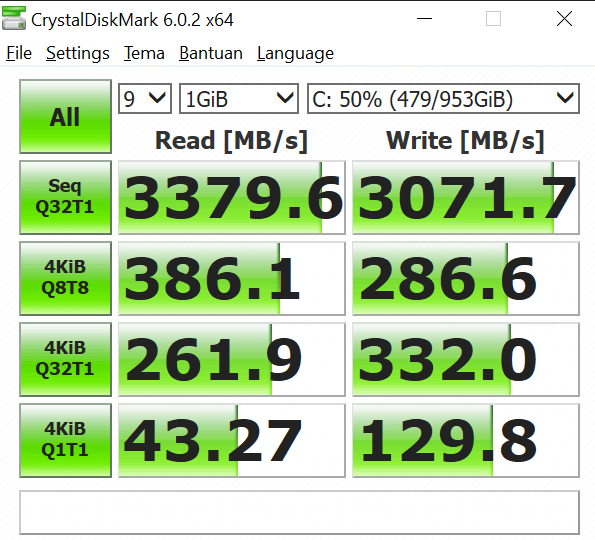 An interesting feature that is really cute from the Lenovo Yoga Slim 7 in my opinion for working people is the IR camera feature which not only functions as Windows Hello, but also for the health of its users.
With software called Glance by Mirametrix, the Lenovo Yoga Slim 7 can use an IR camera to warn users that they are sitting incorrectly, as shown below.
In addition, if you have been looking at the laptop screen for too long, you are also reminded to look at other objects for 20 seconds.
Apart from that, it can also blur the screen if someone wants to peek or when we are not in front of the laptop.
Sophisticated right?
But turning on the Glance by Mirametrix software will consume a lot of battery. We recommend using this feature when the laptop is in the charging position.
What pisses me off about the Yoga Slim 7
It's a man-made product, nothing is perfect.
In this section, I want to convey my complaints during a month of using this laptop.
The first problem is the part of the screen that moves like that when using a custom wallpaper. Take a look at the video below.
I have reported this to an authorized Lenovo service technician, they said it could be due to software. Because, if you use the default wallpaper or the Windows logo, it's safe.
The second problem, it's in the body.
My expectation of buying a premium laptop is perfection. Well… at least if there are defects don't be too visible.
Every time I open and close my laptop, I'm always sad to see how Lenovo assembles the laptop. The problem is that the screen and body are not perfectly installed, tilted like that.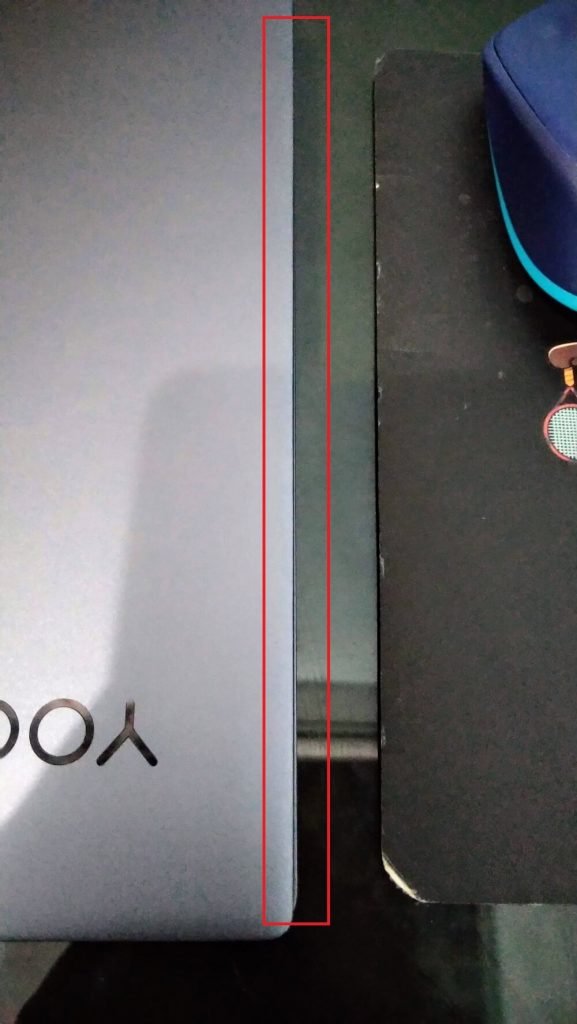 Can't stop thinking…
The third problem is in the charger. Not even 2 months, my laptop has to enter the repair shop.
Not because the laptop is broken, but because the charger doesn't work.
Due to a damaged charger. The electricity in my house is so mental, it's okay.
I've checked the Lenovo support site and the damaged charger has been entered in the data.
Because it's still under warranty, of course I don't have to pay for repairs to this charger which was replaced by Lenovo.
Discussing these shortcomings makes me sad… it doesn't match the price.
The advantages and disadvantages of the Lenovo Yoga Slim 7, in my opinion
The following are the advantages and disadvantages of the Lenovo Yoga Slim 7 version of the Intel i7 that I have experienced.
Pros of Lenovo Yoga Slim 7
It has a thin and light body, so it is suitable for traveling.
Already using the latest Intel Core i7 Gen 10 (2020).
Using the latest Nvidia MX350 GPU.
Have a smart IR camera that not only functions as a face recognition login, but also for security alerts.
Has a rapid charging feature that makes the battery charge quickly and is ready for business .
There is thunderbolt 3 which is ready to be used as an additional external GPU.
Disadvantages of Lenovo Yoga Slim 7
Design is the same as most Yoga Slim laptops, boring.
Software is buggy
Assembling a random laptop
Changer wears out quickly (personal experience)
Price of Lenovo Yoga Slim 7
This one laptop is also goib .
In June, it's hard to find sellers of Yoga Slim 7 Intel. Lenovo's reason given by the seller was because there was a delay in delivery.
I even had PO 2 times for the AMD version, luckily it didn't happen. At that time, I didn't think that integrated cards weren't suitable for video editing and gaming.
Yep … it's compatible with Intel X nVidia.
Buy via Tokopedia, I bought the Intel i7 version of the Lenovo Yoga Slim 14″ for IDR 17,599,000 (excluding postage + insurance + extra bubble).
But thank God, I can buy this intel Yoga Slim 7 cheaper. The problem is I got CASHBACK from Tokopedia and Lenovo, plus I was given a Lenovo L300 mouse by the seller.
This is a picture of the CASHBACK that I got.
For those who don't know, this Lenovo CASHBACK is from the lenovopromo.com site .
There are many types of laptops that get this "Back to School" promo. The highest cashback for the Lpatop Legion 5i. But for Yoga Slim 7 you can only get 500 thousand.
Those who have just bought an Intel version of a Lenovo laptop with an image of the unit on the banner, hurry up and claim your bonus.
Indeed, this promo is only valid until September 2020, but I can see that the site is still opening the form to claim the bonus, who knows, it's still being accepted, right? The problem is that there is still a supply of GOPAY prize balances.
This program only applies to Lenovo Intel version, which AMD doesn't have.
Apart from that, I also got CASHBACK from Tokopedia which is usually held regularly.
Let's calculate the real price again after getting a lot of bonuses.
CASH BACK Lenovo : IDR 500,000
Tokopedia CASHBACK: IDR 350,000
BONUS Mouse value: IDR 150,000
If you add up all the CASHBACK and BONUS, it is IDR 1,000,000. So if you subtract the initial purchase value of IDR 17,599,000 – IDR 1,000,000 = IDR 16,599,000
How is it cheaper, the original value, equivalent to the price of the Yoga Slim 7 AMD hehehe
The price is reasonable for me, who has my own laptop for the first time.
The laptop is thin, light, can play games, for video editing is also okay, there is thunderbolt 3 and a sophisticated IR camera.
That's all for unboxing, reviewing the experience of using this Lenovo Yoga Slim 7 Intel. Hopefully this is useful for those of you who are still confused about choosing a laptop.
Comment below if you want to share your experience choosing the best laptop in your style or comment that there may be wrong information.